Tile & Grout Cleaning  Information
  CERAMIC TILE AND NATURAL STONE FLOORS   have gained tremendous popularity in recent years. The problem is that these floors have been "sold" as virtually maintenance-free except for needing an occasional mopping. 
Nothing could be further from the truth!
OVER TIME YOUR FLOORS CAN BECOME DULL AND SOILED!
Unfortunately, due to the porous nature of stone & grout found between ceramic tile floors they become impregnated with harmful grime and grit over time and it becomes difficult and even impossible to remove the accumulated etched-in residues.  Removing these unsightly soil stains, especially from the grout and mortar that joins the tiles or stones together, may seem virtually impossible.

Here's Why Not Hiring a Professional Is Dangerous to Your Stone, Tile and Grout Floors
SWEEPING AND MOPPING IS NOT ENOUGH   Microscopic pores allow dirt & other contaminants to become trapped below the surface, where they cannot be removed with regular mopping. The dirt continues to buildup inside those pores, leaving grout & mortar looking dark, dirty & discolored.   Do you notice this buildup on your tile floors? HIGH PRESSURE WASHING AND STRONG CHEMICALS CAN BE A DANGEROUS COMBINATION The use of a pressure washer and strong chemicals to clean stone and ceramic floors can damage a floor.  By using a high pressure power washer, the surface of your floor can be permanently scarred by an unskilled user.  Plus cleaning solution & dirt go flying everywhere!  It's very messy and frankly dangerous for the operator your floor & furnishings or anything that chemicals may come in contact with. CLEANING BY HAND IS INEFFECTIVE    Hand scrubbing with harsh cleaners is out dated, back breaking labor intensive (not to mention dangerous, & down right painful to your back & knees.) Did I we mention you are wasting your valuable time that could be put to better use? You have worked hard all day let us make your home's tile floors look great. If your tile floors need cleaning in Springfield Ma, Longmedow or any  where in New England We Can Make your tile and grout look like new again. OLD FASHIONED "PRO" METHODS DON'T WORK    Even if you hire a professional floor cleaning company, they may try to only do half the job. Many will try to use heavy scrubbers with abrasive brushes to loosen soil & then mop it up which removes only the top layer of dirt & leaves the floors blotchy-looking and unclean.
BREAKTHROUGH TECHNOLOGYS HAVE SAVED THE DAY! Hebert's Reliable Cleaning Solutions has invested in new state-of-the-art cleaning machines to solve these problems Our amazing tools utilize clean and capture technology. One tool has fast-spinning jets mounted just ½" off the floor surface to blast & melt away years of contaminants from your floors.  The other tool has five internal spray jets that set ½" from the floors that keep the heat on the floor.  Just  look at these results.  YOU won't believe how clean your floors can look!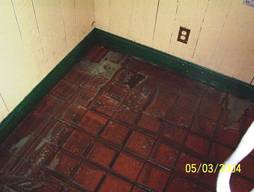 The cleaning head (shown above) recovers 99% of the water and dirt by means of a massive vacuum system.  The floor is virtually dry after the cleaning pass and there's no overspray to damage surrounding furnishings!
This method can be used Indoors or Outdoors and best of all - No Mess!
Natural Stone, Pavers

Bricking & Concrete Tiles

Ceramic Tile & Grout

Concrete Drives

Decking: Wood, Plastic
STOP WASTING TIME & MONEY!    
Stop wasting time by trying to scrub floors on your hands & knees

.

   You can never spend enough time to get your floors "really clean"!

Stop wasting money on infomercial chemicals & machines that don't work

.   You can spend hundreds of dollars on "amazing" cleaners – but most of them are toxic & dangerous.  Why risk breathing harmful fumes or getting a strong acid on your skin? You can trust us with your tile and grout cleaning. 

Stop hoping

that any "professional" who just pushes dirty water around and into your floor with an old fashioned scrubber will be able to restore your expensive stone or tile.  They can't.

STOP THE MADNESS TODAY...

and call me. I promise I'll take care of you just like I take care of all my clients!
Our Tile and Stone Cleaning Technology is State-of-the-Art!  You Will Get Results Like You've Never Imagined…GUARANTEED!
HERE'S WHAT OUR CUSTOMERS ARE SAYING "I can't believe how fantastic my pool room floor looks after seeing a demonstration of your rotary jet extraction system!" "Just look at how clean my kitchen floor is…and dry after just a few minutes…WOW!!  I will recommend you to everyone who needs cleaning for their stone or tile.  I've never seen anything quite like your process. Hebert's comes though for us again!" 
YOU CAN HAVE EXCELLENT RESULTS LIKE THIS TOO! 
Call (413) 532-3990
To get the most awesome cleaning experience you've ever had.
 PS.  When you call, just ask for me - David Hebert - and I will give you a 20% discount on
your first Tile and Grout cleaning. I'll also throw in a Giant Size Bottle of Green Seal Approved Carpet Spotter TOTALLY FREE ($16.95 value) when you  mention that you saw this page!
Your Grout needing a Face Lift? We Have Over 30 Colors To Choose From